Our Portfolio
---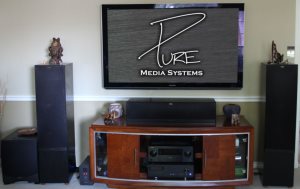 Living Room - Full Size Media Setup
No dedicated space for a media room? No problem! Here's an example of a large size home theater setup in a living room. The centerpiece of the setup is a Panasonic 65" VT series plasma HDTV, surrounded by a complete Klipsch RF-7 speaker system. The speakers are driven from an Air Studios Certified Pioneer Elite Receiver. Media sources include XBOX 360, Playstation 3, and a fully networked custom media PC, providing gaming, movies, live TV, and DVR functionality.
---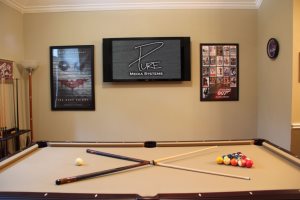 Immersive & Discreet Installation
It's debatable what the true centerpiece of this game room is, the 50" Pioneer Elite Kuro Plasma TV, or the pool table. Here we mounted the TV flush to the wall. We have installed in-ceiling speakers for both music and TV audio. The audio and video sources are driven from across the house by a Pioneer Elite SC-75 home theater receiver which is controlled by either Pioneer's smartphone app, or the Logitech Harmony remote system we set up. HDMI is distributed over HDBaseT to leverage inexpensive Cat5e Ethernet cable for a 75ft run.
---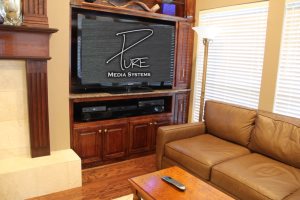 Living Room - Soundbar
It used to be frustrating when your room layout wouldn't allow for an external audio source to watch TV or listen to music. Thanks to sound bars, you can sit back and relax after a long day, and not have to strain your ears to watch prime time programming. To go along with this 55" Samsung Plasma TV, we installed a sound bar which incorporates all of the audio inputs from the customer's cable box, Blu-ray player, and VCR.
Additionally, we set up a Logitech Harmony 650 remote to simplify the experience. With the press of a button, all of the appropriate equipment is turned on and to the correct inputs automatically. This remote replaced five manufacturer remotes in this room.
---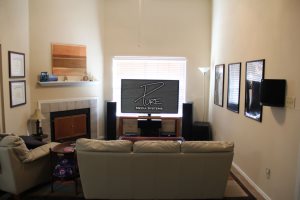 Apartment Home Theater
Live in an apartment? You too can have an immersive home theater experience. In this one bedroom apartment, we set up a 60" Panasonic Plasma TV with a Pioneer Elite SC-63 home theater receiver driving a complete Klipsch RF-3 speaker system. We used white speaker wire to match the base boards and tacked it down along carpet to conceal them.
To control the TV, receiver, cable box, Playstation 3, and media center computer, we set up a Logitech Harmony Ultimate remote to streamline the user experience. With the press of a button, all of the appropriate equipment is turned on and to the correct inputs automatically. Not only did this replace five manufacturer remotes, but it also allows the system to be controlled from anywhere in the unit. Worried about what will happen if you move? Call us and we will hook everything back up for you in your new home.